Community Safety
Publicity for Domestic Abuse Support Services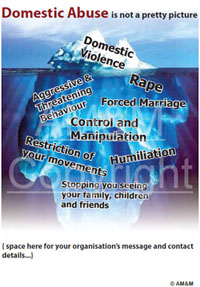 AM&M has created a poster for publicising the availability of support services for those suffering from Domestic Abuse. Keeping in mind that "domestic violence" is just one important, more "visible" aspect of the broader Domestic Abuse area, the poster accurately depicts domestic violence as just the "tip of the iceberg". This is a well known situation for those who provide support services, but it is not fully understood by those suffering from the less visible Domestic Abuse activities, nor by the public in general.
Essentially, those suffering from domestic Abuse need to regain more control over their lives. The support services throughout the country have a wide range of activities to help sufferers, no matter what level or type of abuse they have suffered so far. Their aim is to become engaged with the victims of Domestic Abuse, but they first need to be contacted by the sufferer, or their friends or family. And that is where this poster comes in.
The graphic on the poster pretty well speaks for itself, and the bottom portion can be tailored to carry your organisation's contact details, open hours and a brief message. We can also develop a leaflet for distribution if you wish.
Depending on how you wish to use the poster (print, website, email, presentation, etc), we will allow you to use the copyright graphic with your tailored entry for a reasonable fee. We can arrange printing and delivery for you, or send you a password-protected file for your use, as agreed. Larger organisations can be invoiced; smaller organisations will need to pay on order.
We hope that you will see the ways that this poster can be used to better inform victims of abuse, and the general public. Please contact us via email at info@advantage-mgmt.co.uk with any questions, and to inform us about how you would wish to use the poster, so that we can provide an accurate quotation.